Looking for great books to read? Find them at BOOKBROWSE, your guide to exceptional books!
Use your library card to access the premium content on BOOKBROWSE any time, anywhere.
BOOK REVIEWS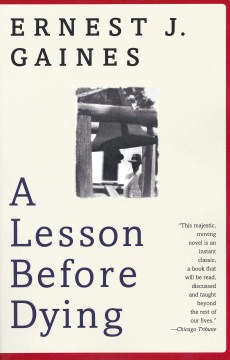 A Lesson Before Dying by Ernest J. Gaines
A Lesson Before Dying really is one of the most profound and insightful novels I have ever read that still manages to be down to earth. Gaines' effortless ability to create a believable and homely setting of a small plantation town in the early 20th century and his skillful analysis of the psyche of and complex influences on the narrator, Grant, is what makes this novel so enjoyable to read. But what is most impressive is how he approaches the issue of racism in such a raw and unadulterated light but uses Grant and the other characters to make this digestible to even the most faint of heart. The amazing story of the struggles and eventual triumph of Jefferson, Grant's student who is falsely convicted for involvement in a violent crime, brings to the forefront the darkest and yet also the brightest parts of people and reflects on how racism and a culture that has existed among racism affects one's view of oneself. Long story short, I strongly recommend that anyone looking for either a meaningful text, a glimpse into past attitudes on society, or even just a plain good read check out A Lesson Before Dying by Ernest J. Gaines!
– Srujan Roplekar
T-Shirt Tote Bag Tutorial